COMPANY NEWS
LAFAYETTE INSTRUMENT COMPANY UNVEILS NEW PROFESSIONAL HAND DYNAMOMETER
FOR IMMEDIATE RELEASE:
Lafayette Instrument Company unveils new Professional Hand Dynamometer
Lafayette, IN - January 1, 2015 - After many years of experience manufacturing the JAMAR Hand Dynamometer for Patterson Medical, Lafayette Instrument Company is honored to unveil our next generation hydraulic hand dynamometer the Lafayette Professional Hand Dynamometer (PHD).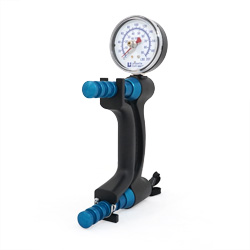 The Lafayette PHD is made in the USA, and maintains a standard size and weight while upgrading the gauge to 1% accuracy. Many comparable hand dynamometers on the market provide users with no better than 3% accuracy.
We have also sought to improve the durability of the hand dynamometer, and are proud to say, unlike previous makes and models, we now offer a truly leak-proof hydraulic system.
Lafayette will continue to service and calibrate both the Lafayette and JAMAR families of hydraulic hand dynamometer. We also provide a hand dynamometer trade-in program toward a new Lafayette Professional Hand Dynamometer.
Contact:
Brian Brown
brian@lafayetteinstrument.com
3700 Sagamore Parkway North
Lafayette, IN 47904 USA
Tel: +1 (765) 423-1505
ACUMAR INCLINOMETER RANGE OF MOTION TRAINING COURSE NOW AVAILABLE
Lafayette Instrument Company is partnering with Metriks Education, Inc. to offer private LIVE video conference training for the Acumar Inclinometer. Save money and travel time by logging in from your home or office to receive one-on-one training from an industry expert. For more information about the course and our partnership, visit the Range of Motion Training area on our website.
01128 SKINFOLD CALIPER COMPARISON STUDY AVAILABLE FOR DOWNLOAD
01128 Skinfold Caliper Comparison Study