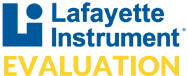 AUTOMATIC TALLY MAZE
Model 20017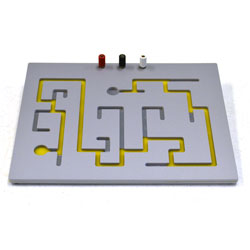 DESCRIPTION
The automatic tally maze attaches to an impulse counter and / or stop clock (not included) to record errors and time required for completion. While wearing a blindfold, subject traces along the anodized pattern with a metal stylus. Reduction in number of errors for successive trials is a useful demonstration of learning and memory. Blindfold not included.
REQUIRED ACCESSORIES
ECONOMY CLOCK / COUNTER

Model 54060A
The economy clock / counter is a timing device that is capable of accurately recording times down to the millisecond.
OPTIONAL ACCESSORIES
BLINDFOLD MASK PACKAGE

Model 33010
Blindfold masks sold in a pack of four.
PATCH CORD SET

Model 58085
Patch Cords for timing and counting systems.
Copyright © 2009 - 2020 lafayette Instrument Company. All Rights Reserved.