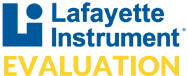 BIOFEEDBACK XPERT BASIC SOFTWARE MODULE
Model 73100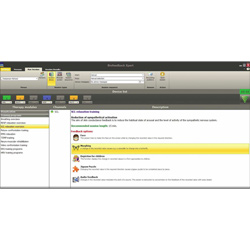 DESCRIPTION
The Biofeedback Xpert Basic Software Module is used to manage client data, prescribe training and evaluate sessions. The Biofeedback interface whose color can be adjusted – is clearly laid out and easy to understand. Basic training is included.
FUNCTIONS OF ADMINISTRATION SOFTWARE
Database
The database stores all client data, session data, readings, notes, comments and recorded speech. If required, data can be imported and exported as well.
Advice Messages
Regular advice messages support the use and provide helpful input. General warnings protect against inappropriate use. You can create and edit advice messages yourself depending on the session structure.
Session Sequence
In the session sequence, you can define, save, and therefore standardize your own session structures for particular indications or case. A session structure can consist of multiple training programs with different parameters, times and advice messages.
Therapy Library
The therapy library contains training programs and brief descriptions. Training is started via the therapy library. No additional settings should be made.
Modular Screen
Bar and line displays, numerical displays and videos can be arranged in any order on the screen. This results in individual training screens for different clients or training approaches.
Sensor Position
The exact instructions for how and where to apply the electrodes.
Background
Training sessions can be designed individually with different background images or colors.
Background Music
To optimize the training effect, you can use music from the program or from a CD.
Help
The help includes two online manuals: the "Technical Help" with a description of the program and the "Therapist Help" with general information on biofeedback. In addition, the hardware and software manual are located here.
Set Marker
Use this function to document results during the session and add comments.
2-Screen-Solution
Use this function to display individual images on a second screen. This makes it possible to set up a therapist and a client screen.
3D Evaluation
The system can also display the evaluation diagram in a 3D display (bars, bands, etc.) that can be rotated and enlarged.
BASIC TRAINING MODULES
RESP Relaxation Exercises
For this training, the client monitors his breathing and relaxes this way. The breathing is displayed on the screen with a bar or picture segment that expands or collapses depending on the depth of respiration. In addition to information on the ability to relax, you can also recognize breathing patterns, breathing frequency and respiration depth. This training can be adjusted by changing the background images and the music.
Line Feedback
ith this function, all recordable parameters can be displayed in line form. The function serves both for simply recording values (monitoring) and for training. Sessions can be shaped individually using background images, colors and music.
Threshold Value Training
As with lines feedback, you can use this function to display all recordable parameters in line-graph form. In addition, the therapist defines a threshold. Depending on the training, if the client is able to exceed/fall below this value, he receives positive feedback. Sounds or music, for children stories (only available in German) are used as a reward. However, you can also set acoustic warning signals that the system outputs for a change in an undesired direction. When the client achieves the training objective, the threshold is moved and a new objective is defined.
Volume Feedback
Volume feedback is used for vasoconstriction training (migraine intervention). Feedback is provided using a circular image which represents the blood flow in the temporal artery. The training consists of making the displayed ring tighter as often as possible. By stabilizing the artery tonus, the client reduces the number of migraine attacks and/or their severity. This therapy is recommended for children in particular or when medicine does not suffice or no longer suffices.
Audio Feedback
Audio feedback allows training all recordable parameters. The program reports changes acoustically by changing the pitch. The client either trains with a background picture or without visual presentation, that is with a black screen. Acoustic feedback is suited particularly well for regulating breathing, skin conductance and muscle relaxation.
SPECIFICATIONS
MINIMUM COMPUTER SYSTEM REQUIREMENTS
Operating system: Windows 2000/XP/Vista/7 (x32 or x64)
Pentium or compatible 1.5 GHz processor
2 GB RAM
Graphics card (suitable to play videos)
16-bit sound card (suitable to play MIDI-files) with speakers and/or headphones
DVD drive
1 GB of free hard disk space
Mouse, keyboard
1 USB port for the radio pyramid (in case radio modules are used)
Serial ports for physio-recorder, marker cable or for control of an external device (ports only necessary if used)
Products of the company SCHUHFRIED GmbH are developed and produced in accordance with the requirements of EU directive 93/42/EWG. They comply with the Medical Devices Act and therefore bear the CE mark. This confirms that they meet the requirements of the safety regulations and electromagnetic compatibility guidelines for electrical medical devices (EN60601), the biocompatibility guidelines (EN30993) and other product-specific regulations. The company SCHUHFRIED GmbH is certified in accordance with EN ISO 13485:2003 which guarantees that the required quality management procedures are implemented.
REQUIRED ACCESSORIES
LICENSE AND BLUETOOTH MODULE DONGLE

Model 73203
The new Bluetooth Module replaces the license and the radio pyramid dongle.
Copyright © 2009 - 2020 lafayette Instrument Company. All Rights Reserved.