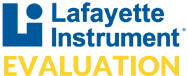 LAFAYETTE DIGITAL HAND DYNAMOMETER
Model 5030D1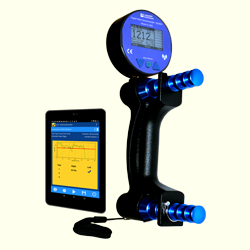 DESCRIPTION
The Lafayette Digital Hand Dynamometer is designed with the same weight and form factor as all our other Hand Dynamometers.
Isometric grip force is scored with ±1% accuracy from 0-250 lbs (113 kg, 1112 N). The Digital Hand Dynamometer has a battery life of 10 hours and can retain up to 250 tests in its data stores or be combined with the Lafayette LEval App to create a database of test scores for storage and generating normative data.
SPECIFICATIONS
Range: 0-250 lbs (113 kg or 1112 N)
Accuracy: ± 1 % over full scale or ± 0.2 lbs
Resolution: 0.1lbs (0.1kg or 1N)
Battery: One (1) rechargeable lithium-ion battery
Battery Life: 10 Hours
Charge Time

80% approx. 45 minutes
100% approx. 2 hours

Data Storage Capacity: 250 tests
Preset Test Length: 1-99 seconds in 1 second increments
25 ms sample rate
FEATURES
Select force measurements in pounds (lbs), kilograms (kg), or Newtons (N)
Easy-to-read graphical LCD display
Battery indicator on LCD display
Interactive menus allowing user to select device options
Automatic storage of data in device memory (Optional)
Built-in stored data browsing capability
Automatic shut down after 5 minutes of inactivity
Compatible with LEval app for Android and iOS
OPTIONAL ACCESSORIES
LEVAL APP

Model LEval
Designed for use with compatible Lafayette Instrument Company Evaluation systems, such as the Jackson Strength Evaluation System, Digital Hand Dynamometer, and the VertiMetric Jump Assessment System, LEval provides a wireless connection between a device and a tablet.
RELATED PRODUCTS
LAFAYETTE PROFESSIONAL HAND DYNAMOMETER (PHD)

Model 5030L1
Designed for both routine screening and for evaluation of hand trauma or diseased hands. Lafayette's next generation hand dynamometer features accuracy within 1%.
LAFAYETTE HYDRAULIC HAND DYNAMOMETER

Model J00105
This precision instrument is designed for both routine screening and for evaluation of hand trauma or diseased hands.
Copyright © 2009 - 2019 lafayette Instrument Company. All Rights Reserved.