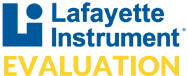 HALO DIGITAL GONIOMETER WITH KPEC TRAINING COURSE
Model 01131K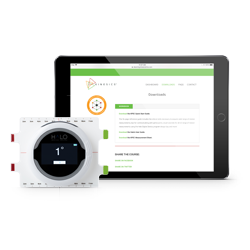 DESCRIPTION
HALO is the next generation Digital Goniometer for Joint Measurement. It is both an inclinometer and goniometer. Single hand functionality allows you to support a patient's limb while you measure or record results with your free hand. Results within +/- 1 degree of accuracy are displayed on the easy to read backlit screen in 5 seconds. Lasers intersect landmarks for a repeatable measure. HALO goniometers are now available with measuring base for more consistent results.
Ideal for all clinical professionals.
The HALO digital goniometer is easy to use with only one hand. Fast goniometer readings will allow faster and more thorough range of motion evaluations.
Single handed operation allows for a free hand to manipulate joints more accurately and easily. Contact Lafayette Instrument directly for professional or bulk pricing.
---
This product includes a full video training course
Each course module only requires 5 minutes to complete making the course very economical for on the go practitioners. The course provides 8 CEUs and additional manuals containing the covered measurements.
View the clip below for an introduction to the course. Visit our Kinesics page for more information about the HALO and the Kinesics training course.
OPTIONAL ACCESSORIES
HALO STRAP KIT

Model 01131S
The HALO Strap Kit allows for hands free operation. The HALO Goniometer conveniently fits into the protective rubberized shell and attaches to the varying lengths of Velcro straps.
RELATED PRODUCTS
HALO DIGITAL GONIOMETER

Model 01131
HALO, is the next Generation digital goniometer for Joint Measurement. It is both an Inclinometer and Goniometer. A single hand function allowing you to support your patients limb while you measure OR you can record your results with your free hand.
Copyright © 2009 - 2021 lafayette Instrument Company. All Rights Reserved.