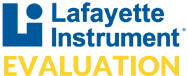 MULTI-PARAMETER MODULE
Model 73200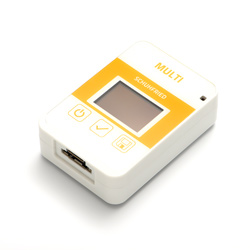 DESCRIPTION
Bluetooth Module for sensing Skin Conductance, Pulse Frequency, Temperature, and Motility.
SPECIFICATIONS
MODULE SPECIFICATIONS
Channels: 4
Notch Filter: 50/60Hz
BVP
Resolution: 24 bit
Sample rate: 1000 Hz
Integration time constant: 200ms
Heart rate: 30-200 beats/minute
TEMPERATURE
Resolution: 14 bit
Data rate: 5 values per second
Range: 10-40°C
Accuracy: 0.5°C
Resolution: 0.01°C
SKIN CONDUCTANCE
Resolution: 16 bit
Measuring with alternate current: 20 Hz alternated
Sample rate: 1 kHhz
Range: 0-80 μS
Max. error: 0.65 μS
Resolution: 0.059 μS
MOVEMENT
Resolution: 16 bit
Sample rate: 100 Hz
Range: 0-20 m/s²
Accuracy: 0.006 m/s²
Resolution: 0.05 m/s²
HEART RATE VARIABILITY
Resolution: 24 bit
Recording: 3-pole, bipolar
Bandwidth: 1.06 - 100 Hz at 1000S/s sample rate
Measurement Range: ± 3200 μV
Resolution: 300-2000 ms
REQUIRED ACCESSORIES
SKIN CONDUCTANCE SENSOR

Model 73300
Skin Conductance sensor for palm or finger.
MIGRANE SENSOR

Model 73305
Migrane sensor applied to head area via headband. Used with the Model 73200 Multi Parameter Module.
SENSOR FOR SKIN CONDUCTIVITY, PULSE, TEMPERATURE, AND MOVEMENT

Model 73311
This is a multi-sensor which can be easily attached to a single finger. The sensor includes Skin Conductivity, Pulse, Temperature, and Movement.
Copyright © 2009 - 2020 lafayette Instrument Company. All Rights Reserved.