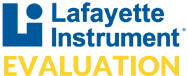 STATISTICS MODULE
Model 73111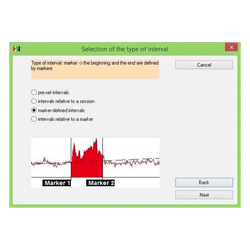 DESCRIPTION
The statistics module can be used to prepare data acquired with Biofeedback Xpert for further statistical analyses with standard statistic programs. In the framework of studies, this makes it possible to make comparisons between different sessions, persons or also within a session.
The following settings are possible:
INTERVALS
Determine flexibly which intervals are of interest. Multiple selection methods are available: automatic marker-controlled, session-based and absolutely positioned intervals.
MEASUREMENT CHANNELS
You select the relevant measurement channels.
INTERVAL PARAMETERS
Determine which indicators of the selected intervals should be calculated (mean, median, minimum, maximum, slope, standard deviation, etc.).
The program can smooth data and remove outliers during calculation. The data can be exported in a format for SPSS or tab-delimited (such as for Excel).
REQUIRED ACCESSORIES
BIOFEEDBACK XPERT BASIC SOFTWARE MODULE

Model 73100
The Basic Software is used for storage of database information, settings, and other session improvements such as basic training exercises.
OPTIONAL ACCESSORIES
MULTI-PARAMETER MODULE

Model 73200
Module used for the measurement of Skin Conductance, Pulse, Temperature, Heart Rate Variability, and Motility.
ELECTROMYOGRAPHY MODULE

Model 73201
Records the action potentials of the muscle using disposable electrodes.
RESPIRATION MODULE

Model 73202
Module for acquisition of respiration rate and breathing pattern. Comes with breathing belt.
Copyright © 2009 - 2020 lafayette Instrument Company. All Rights Reserved.