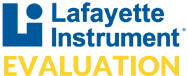 ACUMAR DUAL INCLINOMETER FOR JOINT MEASUREMENT
Model ACU002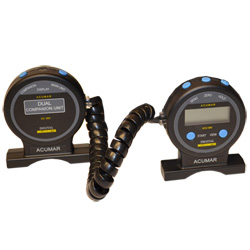 DESCRIPTION
Package contains Digital Inclinometer and Companion Unit with case and connecting cable. Two-inclinometer technique and procedure is well defined in the 5th Edition of AMA Guides. Acumar Dual Inclinometer simplifies measurements and increases objectivity. The Acumar Dual Inclinometer can simultaneously capture both angles by the press of a single button. It allows up to six pairs of data for viewing and recording to greatly speed up data capture and analysis.
The Acumar Digital Inclinometer is the world's first digital inclinometer that offers easy to use wireless data. The Acumar Digital Inclinometer Suite provides accuracy, repeatability and objective documentation of range of motion measurements.
WHY ACUMAR?
A few of the benefits resulting from choosing our product for your inclinometer needs.
Measurement storage frees user from having to record measurements between readings.
Optional wireless transmission eliminates transcribing errors and saves considerable time.
Examiner is freed up to devote attention to the examination procedure resulting in a more accurate assessment in less time.
RANGE OF MOTION TRAINING COURSE
Lafayette Instrument Company is partnering with Metriks Education, Inc. to offer private LIVE video conference training for the Acumar Inclinometer. Save money and travel time by logging in from your home or office to receive one-on-one training from an industry expert. For more information about the course and our partnership, visit the Range of Motion Training area on our website.
This product currently has a 4-week manufacturing lead time.
Lafayette Instrument manufactures devices that comply with United States FDA Medical Class 1 rules. Warning: The medical devices advertised on our website may not have been licensed in accordance with Canadian law.
FEATURES
Easy to Read Digital LCD with HOLD
Large liquid crystal display readout.
Covers 360° (Displays +180° to -180°).
Measurements can be gravity or reference based.
Stores an entire series of measurements.
Stored data can be retrieved manually or sent wirelessly to a computer.
Supports the AMA Guides
Measures Joint Range of Motion, Spinal subluxation, and Cervical Flexion and Extension
Multiple Data Storage and Viewing
OPTIONAL ACCESSORIES
ACUMAR ACCESSORY RULER ATTACHMENT

Model ACU010
Digital Inclinometer may be attached to the ruler.
ACUMAR WIRELESS COMPUTER INTERFACE

Model ACU011
Optional infrared wireless computer interface simplifies data transfer from inclinometer to a computer.
RELATED PRODUCTS
ACUMAR SINGLE DIGITAL INCLINOMETER

Model ACU001
Compact, handheld unit features large digital display for easy reading. Store measurements with the hold button, and review maximum, minimum and average values.
Copyright © 2009 - 2020 lafayette Instrument Company. All Rights Reserved.