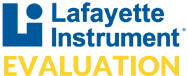 LAFAYETTE EXTENDABLE GONIOMETER
Model 01135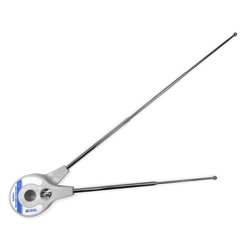 DESCRIPTION
Versatility, Reliability, Accuracy and Portability are the advantages that make the Lafayette Extendable Goniometer an innovative tool in the assessment of range of motion. Its arms can extend to 28.00 inches to measure large joints and retract to 8.0 inches to measure all but the smallest joints. Unlike standard goniometers that require the examiner to estimate alignment, the length of the extendable arms allows it to lie over anatomical bony landmarks.
The dual scale of 0-180° and 180-0° is magnified four times, improving the accuracy of the reading, thus, reducing the chance for error. The Extendable Goniometer is affordable, costing little more than standard goniometers. Its lightweight ABS plastic construction will ensure continued and long lasting use. The Extendable Goniometer features a Dual Scale, 1° Increments, Extendable and Retractable Arms, Magnified Reading Window, as well as a Compact, Lightweight, and Portable Design.
SPECIFICATIONS
Total collapsed length: 8.0 inches
Total extended length: 28.00 inches
Housing diameter: 2.5 inches
Thickness: 0.8 inches
Weight: 0.2 lbs.
Arm rotation: 360° (both directions) Resistance swivel
Lens magnification: 4x
Index dial: dual scale 0-180° and 180-0° in 1° increments
Housing: Gray ABS Plastic
Extendable arms: Chromium plated brass
Positioning see thru hole: 0.68 inches diameter
RELATED PRODUCTS
REPLACEMENT ANTENNAS FOR EXTENDABLE GONIOMETER

Model 01135-10
10 replacement antennas for the Model 01135 Extendable Goniometer.
Copyright © 2009 - 2022 lafayette Instrument Company. All Rights Reserved.